Heart Centered Yoga
yogi living ashram
Imagine a world where life is not a competition, 
A world where we meet each other from the heart
Supporting and holding each other every step of the way
Meeting each other with love, laughter, and affection
A world where a hug initiates your day.
We teach heart-centered yoga and the path of love.
Prayer performed every day by His Holiness the 14th Dalai Lama
Enjoy the serenity of it all
Yogi Living Ashram is an oasis of calm in the southernmost part of Sweden near the Baltic Sea and a place for heart centered yoga. 
Delink yourself from the outside world and relax in the unpretentious atmosphere of the ashram. You are free to roam the surrounding rural countryside, stroll along pristine white sand beaches, swim in the refreshing waves of the Baltic sea, or hang in the nature garden under ancient trees where we have a treehouse meditation platform and a jacuzzi. When the weather allows we practice heart centered yoga on the beach and once a week take an excursion (and sometimes also practice yoga) to places like the Ales Stones (known as the Swedish Stonehenge) and local castles. 
The surrounding countryside is picture-postcard Sweden. There are many small picturesque villages and a mixture of rural farmland, woodland, and lakes. The wonderful coastline of the Swedish Riviera is only a bike ride away.
experiences at the ashram
I came here and I go back home with my heart full of love.
Elenora
We can have meditation on the beach with the sun and the sand and the earth. All the elements together with you. The space here is beautiful.
Mattias
It was really nice. I feel that I really connected with myself. That was amazing.
Malena
My mind was completely empty. Like my feet were not touching the ground. They were not on the ground. Like I was flying a little bit while walking.
Lin
The people are amazing, I can feel very comfortable with them. I feel very relaxed here.
Valerine
yogi living ashram yoga teachers
To me yoga is about personal transformation and heart-centered living. In my classes, I use a blend of yoga styles to maximize the healing energy flow in the body and to balance heart and mind.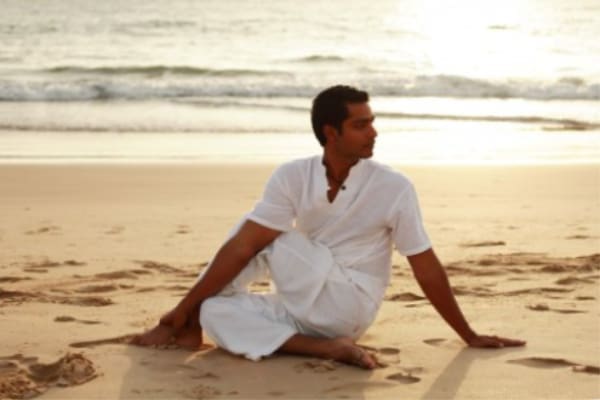 Amit is a certified Yoga Master, Yoga Therapist and Naturopath and has extensive international experience as a yoga instructor. He is a member of Yoga Alliance International.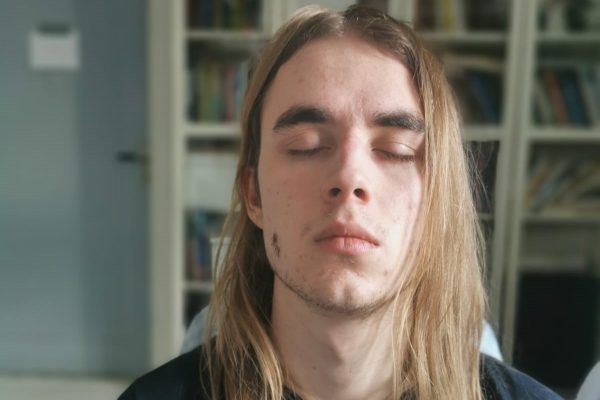 To me yoga and tantra are about living life to the fullest, enjoying every moment in the present and always acting from the heart.  
The Wisdom of ancient masters
Every negative thought you entertain imprints itself on your body. Given time negative thought habits obstruct the free flow of energy and your mind and heart become clouded. Life becomes a struggle.
Common symptoms of this show up as emotional instability, bad moods, stress, pain in the neck, lower back or knees, headaches, weight gain and low immunity. You are prone to disease and stress-related conditions such as high blood pressure, heart problems and even cancer.
Our body organs are connected via the meridians (energy pathways) and chakras (energy centers).
When these are blocked the flow of vital energy is restricted leading inevitably to disease. Similarly, relationships can become conflicted and unfulfilling.
Our first and most important task as yogis is to clear any energy blockages. With our life energy once again moving freely we are able to move into a life of joy, laughter and unconditional love.
Invite love into your life
Yogi Living Ashram is located in Skåne, South Sweden close to the vibrant city of Malmö.
The ashram in South Sweden can be reached from anywhere in Europe within 1 – 2.5 hours flying time or less with multiple flights every day and one hour by train to Trelleborg. 
The closest international airports are Copenhagen Airport, Kastrup  (75 km) and Malmö airport, Sturup (30 km) with good rail connections to Malmö and on to Trelleborg (our closest town).
If you prefer slow travel you can come through Germany and take the ferry from Rostock to Trelleborg. There are 3 sailings (6 hours duration) per day. Click here for ferry crossing times.
We are happy to arrange to pick you up by car from Trelleborg Train Station (we ask for a contribution of 5 Euros) at any time of day. We can also pick up from Hyllie Train Station just outside Malmö during the daytime (10 Euros).
Food at Yogi Living Ashram
At Yogi Living Ashram we do more than practice heart centered yoga in class, we practice heart centered living. This includes using Ayurvedic principles of cooking and believe food should be :
Appealing to the senses — taste and appearance are an important part of the digestive process.
Supportive of health and practice within the ashram.
Vegetarian and freshly prepared from organic local produce wherever possible.
We buy from local producers or collected in nature for maximum taste and health. Local produce is not only better for our environment but is also more grounding.
From our small plot of land we try to grow our own salad leaves, vegetables and fruits. Apples, plums and berries can be picked directly from the trees and bushes when in season. 
We cook with herbs and spices designed to support digestion and cleanse and restore your energy flow.
We offer different options for accommodation: Airbnb rooms, spacious circle tents and two caravans. Keep in mind we are a small ashram with a limited capacity. Please
contact us
 to check availability and pricing.
The Yogi Living Blog dives deeper into yoga science, practice and philosophy. This is where to find answers to some of your deepest questions about yoga as well as the benefits a particular practice can bring to you.